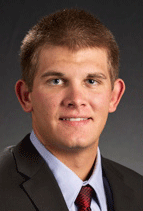 photo by Allison Goldsberry
article by Paul Williams
In the 10th round of the 2012 MLB Entry Draft, on Tuesday, June 6, the Colorado Rockies selected former Mustang first baseman Ben Waldrip. Waldrip is a 2008 graduate of Medford High School and currently a senior at Jacksonville State University. In 2010, Waldrip was selected by the Atlanta Braves in the 42nd round, and in 2011, he was selected by the Kansas City Royals in the 40th round. Unlike drafts from other sports, players re-enter the draft when they don't sign a contract, which was the case for him twice.
Listed at 6'6, 245 pounds, Waldrip brings both size and power to the table for the Rockies. To his advantage, Coors Field in Denver has a reputation for favoring hitters because the high altitude tends to carry baseballs. Last summer, he finished second in the Cape Cod league in home runs. This past season, he belted 18 home runs for Jacksonville State, which ranks 6th nationally in division 1.
He stands in good company, as he ranks one spot behind Florida Gators' standout catcher, Mike Zunino, who was the 3rd overall pick by the Seattle Mariners. During his time at MHS, Waldrip was a four year starter and captain for two years. He was named a Greater Boston League all-star three times, and had a career batting average of .428
.